That's right… This is not a painting but Moondance (on the left) between the icebergs in the crazy Disko Bay!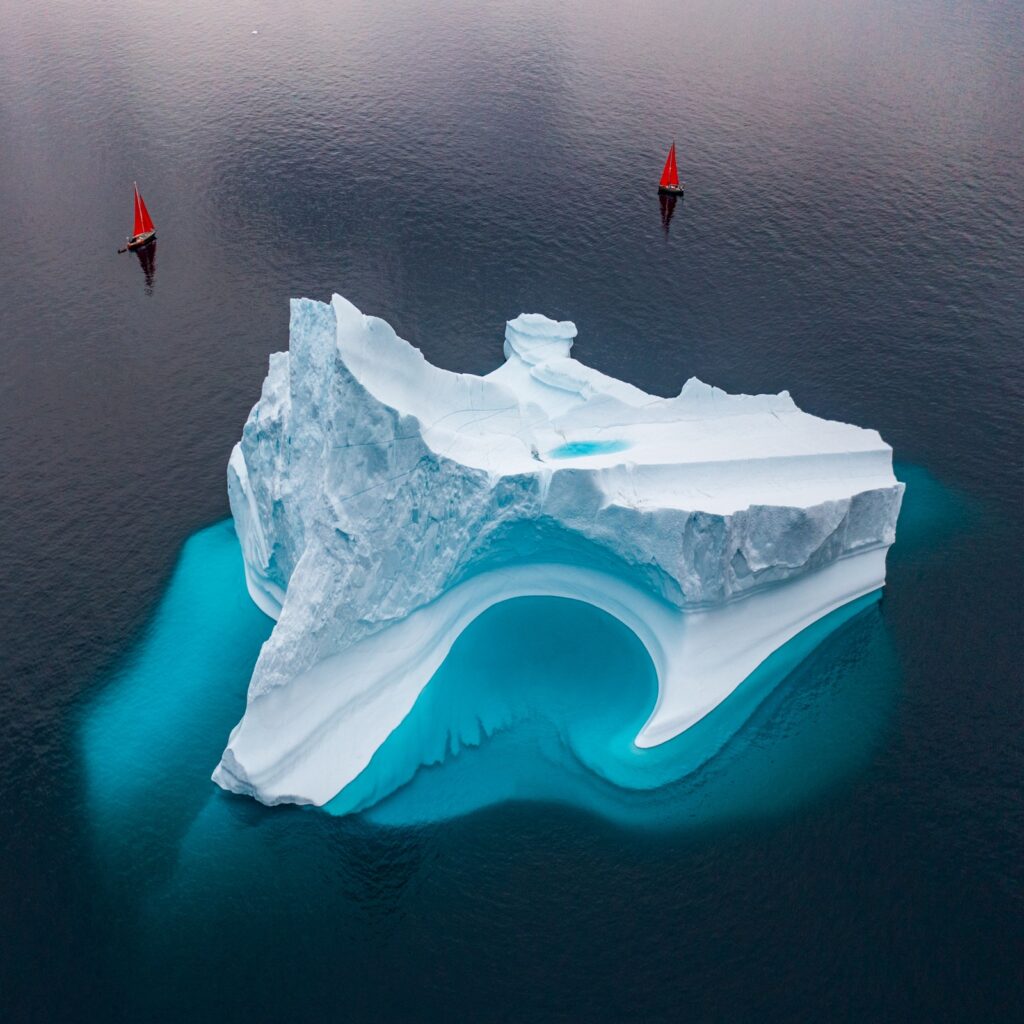 At the time of the previous newsletter, the Moondance was just on its way to Greenland from Norway . June 20, Luuk, Chris, Waldemar, Brorr and Carlos left the port of Tromsø, Norway. The plan was to stop and rest in Ísafjörður, Iceland, before sailing on to Disko Bay, West Greenland. On July 13, the photo courses started there with Iceland Photo Tours.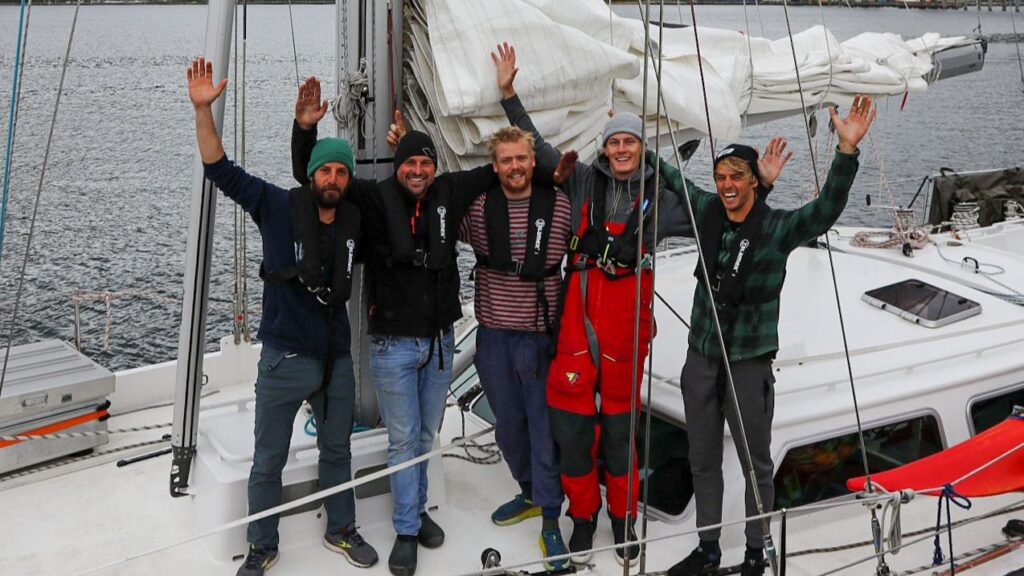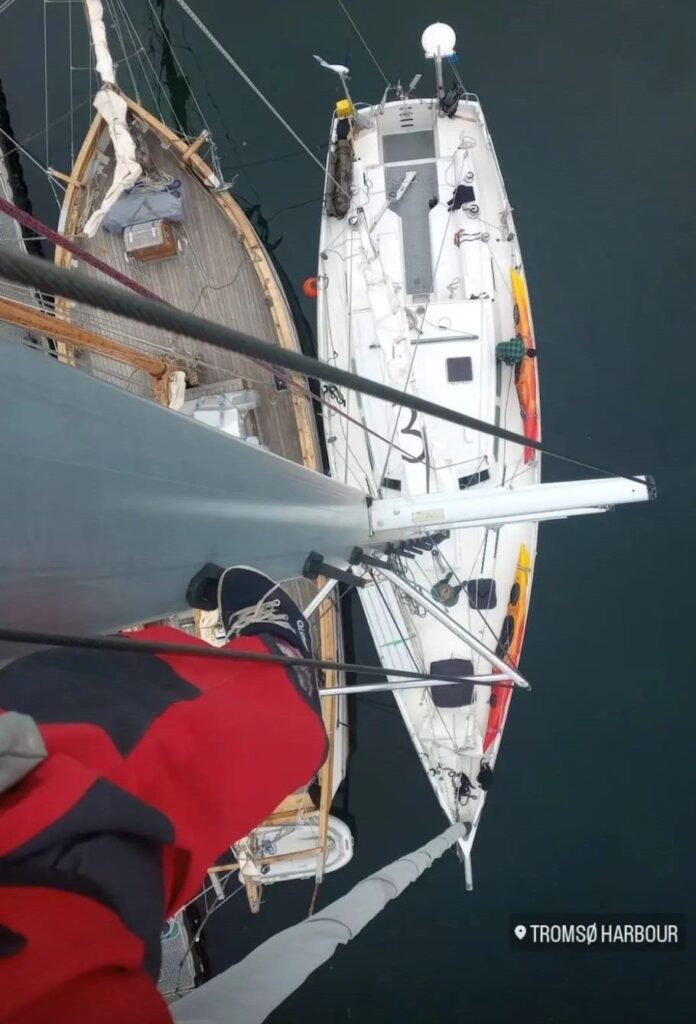 We do the skipper 's checklist every month and before every major crossing . During the checklist we assess whether the Moondance is ready for departure. In the photo you can see Bror inspecting the rigging. In addition, we inspect the underwater hull, necessary supplies, sails, anchor system, safety systems, navigation equipment and much more. In Greenland you will hardly find any spare parts. Good preparation was necessary to be self-sufficient for 4 months !

We had a total of 23 days to sail from  Tromsø  to Disko bay and miraculously we succeeded despite the challenging circumstances! Our expectation was pre-summer sailing with lots of sun, but that turned out to be different on the way. To Iceland it was an average of 3 degrees and it only rained . We opted for a fairly northern route through various low-pressure areas (see updates on Instagram). We even sailed through the eye of a stormwhich gave us a few hours of sun, which was quite nice after that damp weather! Jan Mayen was also within reach, not stopped due to the short time. We'll save it for next year! In the end we covered 1200 nautical miles in 7 days. In Iceland we had time for a short pit stop. Resting for a while, filling up with water and diesel and on again because it seemed that we had a nice window to sail to Cape Farewell. We also bought a few impellors here because we were told by fellow sailors that small pieces of ice quickly damage your impellor (part of the engine)… In Iceland we sailed out of the fjord together with another Dutch ship.. After being the first to sailed out of the rugged Icelandic fjords, we headed for the cape with our heads held high… Normally you can expect heavy weather at the cape (this is where all the low pressure areas that go to Europe arise). Arriving at the cape it was especially exciting because of the dense fog, dark nights, a lot of wind (fortunately no storm) and position reports that we had to email to the Greenland coast guard.With the help of ice charts and current charts via mail (sattelite com) that Marinus sent (father Luuk) we were able to sail perfect routes around Cape Farewell . After this the war of attrition started and we headed north again, straight towards our goal!! After 1900 nautical miles we arrived in Disko Bay. Along the coast of West Greenland we have also spotted beautiful skiing and sailing opportunities.. perhaps something for next years! 
Arriving in Disko Bay felt magical for all of us! Chris the ice spotter in the mast, Waldemar on the tip with a stick and Luuk behind the helm . Back then we had no idea what we were doing…. But of course a first time for everything! We also sailed very quietly into Disko Bay. We proudly secured the boat ashore… what a dynamic trip! And that without major problems! It was a good test for Luuk as captain to complete such a challenging journey. He has proven himself. Chris and Waldemar, we couldn't have done it without you! In Ilullisat (port in Disko Bay) we immediately picked up the red sails and then received the first guests for the photo courses.We have been sailing every night for 20 days to shoot the most perfect photos with guests. The red sails of Zeilmakerij de Vries Maritiem look great in combination with the beautiful light and icebergs. Thank you Johan for making the sails on such short notice! One of Luuk's best moments: "At 3 a.m. we sailed between two large icebergs. In the distance we saw a Greenlantic Whale that swam towards us. Suddenly the whale dived up five meters and a meter in front of the bow down again. To avoid the keel, the whale turned half a turn so that we were super close. Everyone was shouting and screaming on deck with happiness! What an experience!".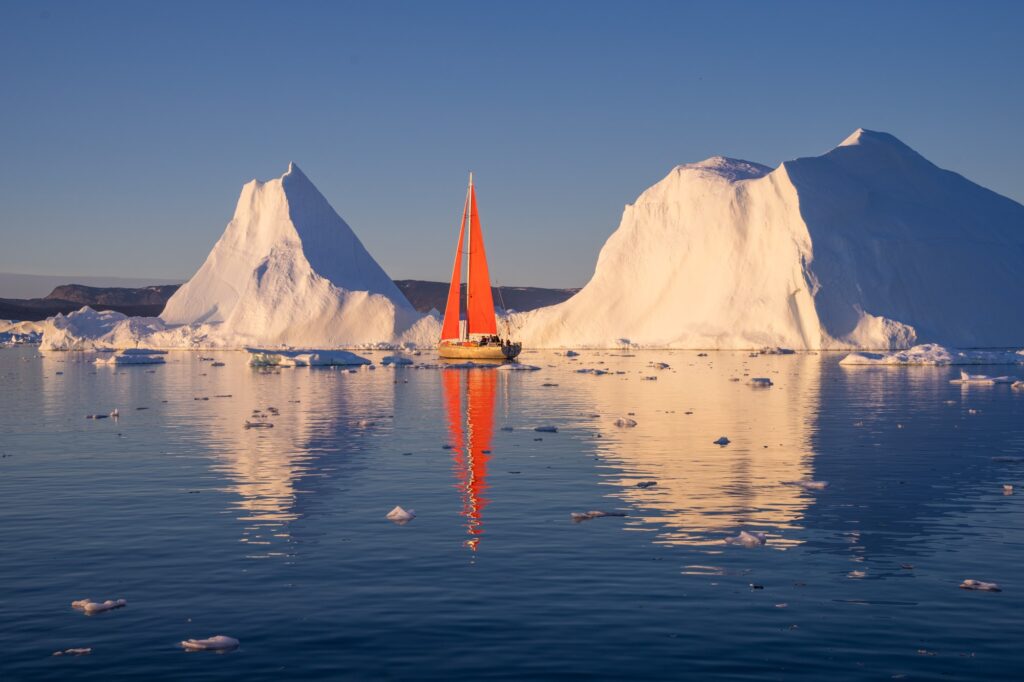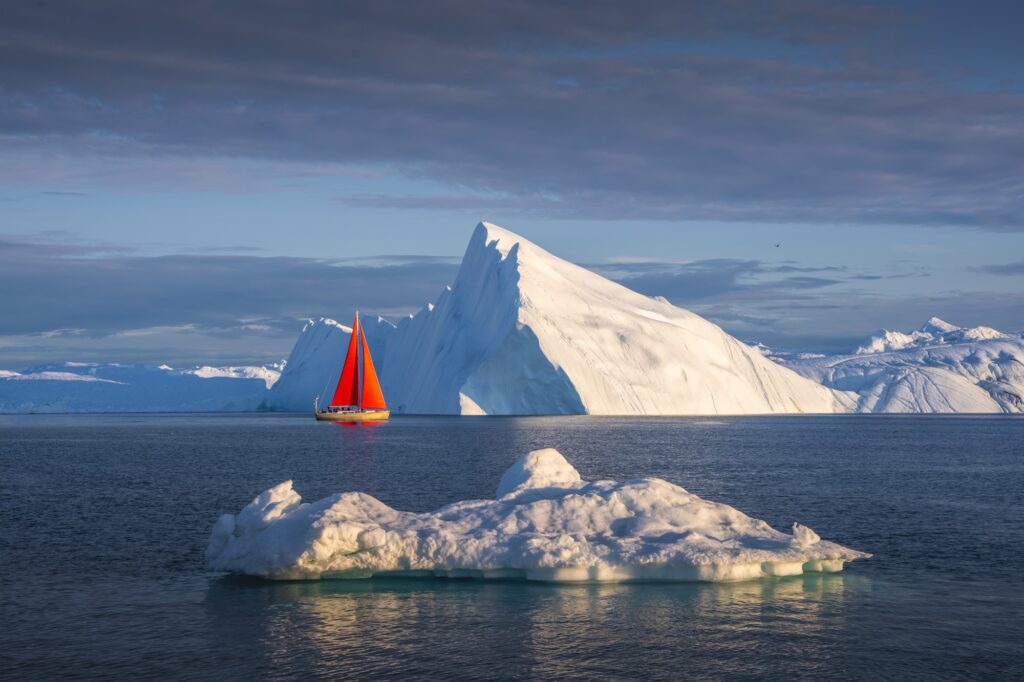 We are very happy with all the photos we receive from the photographers. We will definitely print out some photos! After two weeks of chartering, Luuk is back in the Netherlands and Aslak, Agnes and now also Olivier have taken over . Super nice that we can also take a rest after a busy time. We will certainly not sit still too much because we have great plans for next year ! Will we see you at the arrival party in Amsterdam in October? This will probably take place again at the Northern Lights!
Fair winds,

Luuk and Olivier